2023 Solterra

2023 Subaru Solterra Coming Soon to Premier Subaru
Subaru has been working on a new and exciting project that is scheduled to be released in 2022. Introducing the all the 2023 Subaru Solterra, the groundbreaking all-electric SUV. Although there is little information out about this new SUV for the time being, Subaru has guaranteed that it will include all the advanced safety features, top-of-the-line design, and unbeatable performance that Subaru is known for. We do, however, know a few things about the vehicle in a recent update from Subaru of America, and that its almost guaranteed to be one of the automaker's best and brightest. Amazing updates to technology, with an entirely new generation of their current Safety Suite. Along with new features comes a new platform, design, and so much more. To learn more about the all new 2023 Subaru Solterra, call or visit Premier Subaru of Fremont near Milpitas, Pleasanton, and San Francisco.
A Newly Designed SUV
The Subaru Solterra is built on a brand-new platform that greatly differs from that of many of its already existing crossovers and SUVs. As such, the Solterra brings about an all-new look for an entirely new type of vehicle. Built-in collaboration with Toyota, it bears a strong resemblance to a RAV4 but with a few of Subaru's signature looks. Additionally, its segment classifies it as a compact crossover SUV, placing it somewhere between the size of a Subaru Forester and Subaru Crosstrek. The exterior is sleeker than any vehicle yet seen from Subaru, defined by smooth lines and sharp corners.
The interior carries on the current trend of simple yet refined consoles found in electric vehicles. A massive touchscreen dominates the front row, and Subaru seems to have opted to make traditional buttons and knobs a thing of the past. All the elements of the dashboard come into focus with a cleanly designed center console.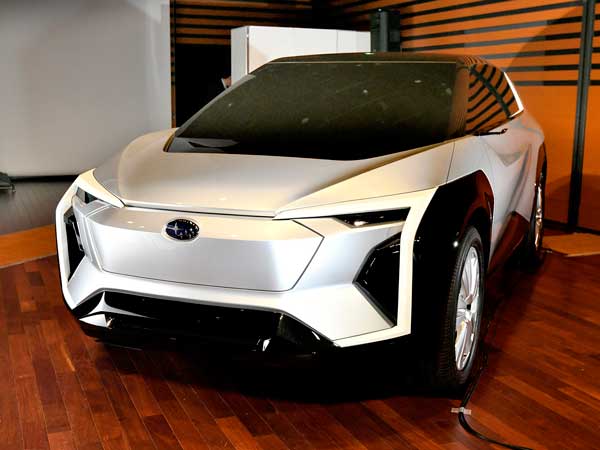 Zero-Emissions Power
An all-new platform and powertrain is a sign of a bright future for Subaru's plans for an all-electric vehicle lineup. For the Solterra, we know that Subaru has maintained its symmetrical all-wheel drive gold standard as seen in every one of its vehicles except for the BRZ. Subaru has hinted that the Solterra will be another off-road warrior in addition to its gas-powered counterparts. With the Solterra's promises of all-weather capability and great ground clearance, there is hope for a future of adventurous, rugged vehicles that run on electricity.
Looking Ahead with the Solterra
While much of the available technology is still unknown, many Subaru devotees hope for such features including Subaru EyeSight, Subaru StarLink, and more. Regardless of what the full-reveal of the Solterra may bring, knowing that it's an all-electric Subaru is enough for many that have already fallen in love with the brand. As over 96% of Subaru vehicles sold in the last ten years still remain on the road, an EV with the Subaru name behind it is sure to be a top-seller. The Subaru Solterra looks to the year 2023 for widespread sales and hopes to increase its electric vehicle lineup.  
Subaru is Dedicated to the Future
Subaru of America is taking an aggressive approach to the production of electric vehicles. By 2035, not only do they hope to have the majority of their sales be electric vehicles, but they hope to have all-electric or hybrid versions of each of their current lineup. The brand is making great strides towards this cause, with a recently available Crosstrek hybrid model and the upcoming release of the Subaru Solterra. Already their vehicles receive excellent emissions ratings from the EPA as well as great fuel economy. Subaru of America is a long-time supporter of the environment and is dedicated to creating an entire family of zero-emissions vehicles.
Reasons to Choose an Electric Vehicle
In recent years, electric vehicles have become increasingly popular amongst the public. There are so many benefits of making the switch to an electric vehicle, especially in California. Let us go over a few of the reasons why you will love owning an EV.
Easier maintenance. When you no longer have a gas-powered engine to worry about, that means fewer stops at the mechanic for services and repairs. Not only will this save you time, but also a lot of money.
It is better for the environment. This is arguably one of the most important reasons to choose an electric vehicle. It is no secret that emissions from gas-powered vehicles have been harming the environment for a long time. When you choose electric power, you choose zero emissions and a healthier environment.
Plenty of incentives in California. The state of California is encouraging drivers to choose electric vehicles in order to protect its environment. Some of these incentives include insurance discounts, free parking opportunities, rebates, federal tax credits, and access to HOT and HOV roads.
Overall convenience. When you choose an EV, you are choosing to save time stopping at gas stations to refuel. Charging an EV is becoming quicker and more convenient over time with their fast charging and at home charging options. Also, electric vehicles are known to have an impressive range on a full charge.
Why You Should Shop at Premier Subaru of Fremont
Premier Subaru of Fremont provides its customers with top-of-the-line service in every department. When it is time to check out the new 2023 Subaru Solterra, you can trust our team to give you the best buying or leasing experience possible.
Do you have a busy schedule and you do not have time to shop in person? Premier Subaru of Fremont gives you the option to complete the entire buying process online. Even better, you can have your new vehicle delivered to your home at no extra cost. This means you will never have to leave your home or find time in your busy schedule to acquire your new 2023 Subaru Solterra.
The team at Premier Subaru of Fremont strongly believes in going above and beyond for our customers. To learn more about the exciting new 2023 Subaru Solterra or to hear more reasons to choose an electric vehicle, call or stop by today in Fremont, CA.